Home › Our Services › Dental Implants
Dental Implants in Lexington, KY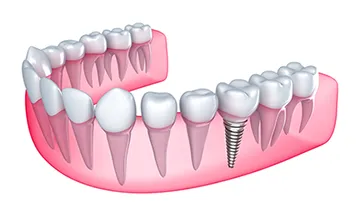 Before development of dental implants, dentures were the only alternative to replacing a missing tooth or teeth.

Dental implants are synthetic structures that are placed in the area of the tooth normally occupied by the root. Implants are anchored to the jawbone or metal framework on the bone and act as a foundation for an artificial tooth or permanent bridge. In some cases, implants can be used to attach dentures.

Dental implants are so well-designed, they mimic the look and feel of natural teeth. Implants are usually made of a synthetic yet biocompatible material like metal or ceramic.
The Dental Implant Procedure
Surgery is necessary to prepare the area for an implant and place the implant in the mouth. Following the procedure, a period of time is required for the implant to take hold and for bone tissue to build up and anchor the device. In some cases, metal posts are inserted into the implant during a follow-up procedure to connect the tooth. Because implants require surgery , patients are administered anesthesia and if necessary, antibiotics to stave off infection following the procedure.
How Will I benefit from A Dental Implant Procedure?
Oral health is one of the primary factors of good general health? Replacing your missing tooth with a dental implant and an implant crown should allow you to live your life as if you had never suffered from a missing tooth. When your treatment is complete, you should be able to chew, speak and socialize without experiencing the negative emotions that having a missing tooth can sometimes cause.
Also, a dental implant and implant crown will help minimize the amount of bone that will be lost in the area of the missing tooth. Preserving oral bone may help maintain your remaining natural teeth and natural facial contours. Replacing your missing tooth may reduce the risk of having poorer nutritional habits often found in patients who do not replace missing teeth.
Dental implants: Improved Quality Of Life: Dental implants are designed to be a long-lasting solution for tooth loss and are cared for with brushing and flossing, just like natural teeth. Caring for non-implant tooth replacements can be much less convenient compared to implant-supported teeth. Dental implants also eliminate the need to use messy dental adhesive
Enhanced Appearance: When a tooth is lost, the surrounding bone begins to shrink away or resorb and becomes increasingly brittle, compromising adjacent teeth and increasing the chance of a changed appearance. Non-implant supported dentures, such as partials or bridges, may actually accelerate this process. Dental implants may help to prevent or slow bone resorption, helping to preserve your natural facial contours.
Am I a Good Candidate For Dental Implants?
Most patients who are healthy with no restrictions for undergoing minor dental surgical procedures and who also have good oral hygiene are good candidates for dental implants. Our dentists will assess the potential implant site to determine whether there is sufficient bone volume and gum thickness to allow placement of an implant. We begin by providing a clinical examination that will involve inspection, palpation, and gentle probing of the potential implant site and adjacent teeth. In straightforward cases, simple dental x-rays are usually sufficient to examine the bone. In more complex cases, specialized implant x-rays, known as tomograms, are usually required.
Like any restoration, implants require diligent oral hygiene and proper care to ensure they last a long time. Some implants fail because patients fail to take proper care of their investment—including flossing and brushing daily. In addition, frequent professional cleanings at our Lexington office are required to ensure the success of the implant.
For more information on Dental Implants in the Lexington, KY area call Erena & Peterson, PLLC at (859) 268-4423 today!